facial cupping massage set with jojoba oil
I don't need therapy. I just need cupping.
A highly regarded facial massage practice that boosts healthy blood circulation, reducing the signs of fine lines and wrinkles by plumping up the skin tissue. To promote the production of collagen and suppleness in your skin, all while reducing pores, puffiness, dark circles and acne, you've come to the right place.
Boosts elasticity and plumpness of the skin to reduce visible fine lines & wrinkles

Increases blood flow and drainage of toxins to combat puffiness and impurity buildup - circulated skin is healthy skin

Promotes cell turnover & regeneration for fresh, younger-looking skin
STEP 1: Apply Jojoba Oil to your face.
STEP 2: Gently squeeze small cups and stick on temple, brow bone and lips. Massage.
STEP 3: Gently squeeze larger cups and stick cheek bones, forehead, neck and jaw bone. Massage.
STEP 4: Do above for 5 mins and repeat 3-4 times per week.
Saying goodbye to fine lines & wrinkles
Tightening saggy skin
Glowy, toned skin
100% Jojoba Oil is rich in fatty acids to diminish dullness and up your glow, attracting moisture and hydrating skin

See All ingredients
×
facial cupping massage set with jojoba oil ingredients
100% Jojoba Oil
Free shipping, free gifts, free returns
Trusted by over 4 million customers
180,000 5-star brand reviews
why we love it
An ancient Chinese method used for comfort, cupping is the best kind of deep tissue massage. With increased blood circulation that results from the suctioning technique, theskin is lifted to improve lymphatic drainage, preventing early aging and wrinkles. Is this the best-kept skincare secret?
how to use
apply jojoba oil or your favorite facial oil all over your face using the silicone pad or your fingers.

gently squeeze small cups and stick on temple, brow bone and lips. use circle motion on temple. use stick and release motion on brow bone and lips. repeat 3--4 times

gently squeeze larger cups and stick cheek bones, forehead, neck and jaw bone using an upwards and circularmotion. repeat 3-4 times. do this for 5 mins, 2-3 times a week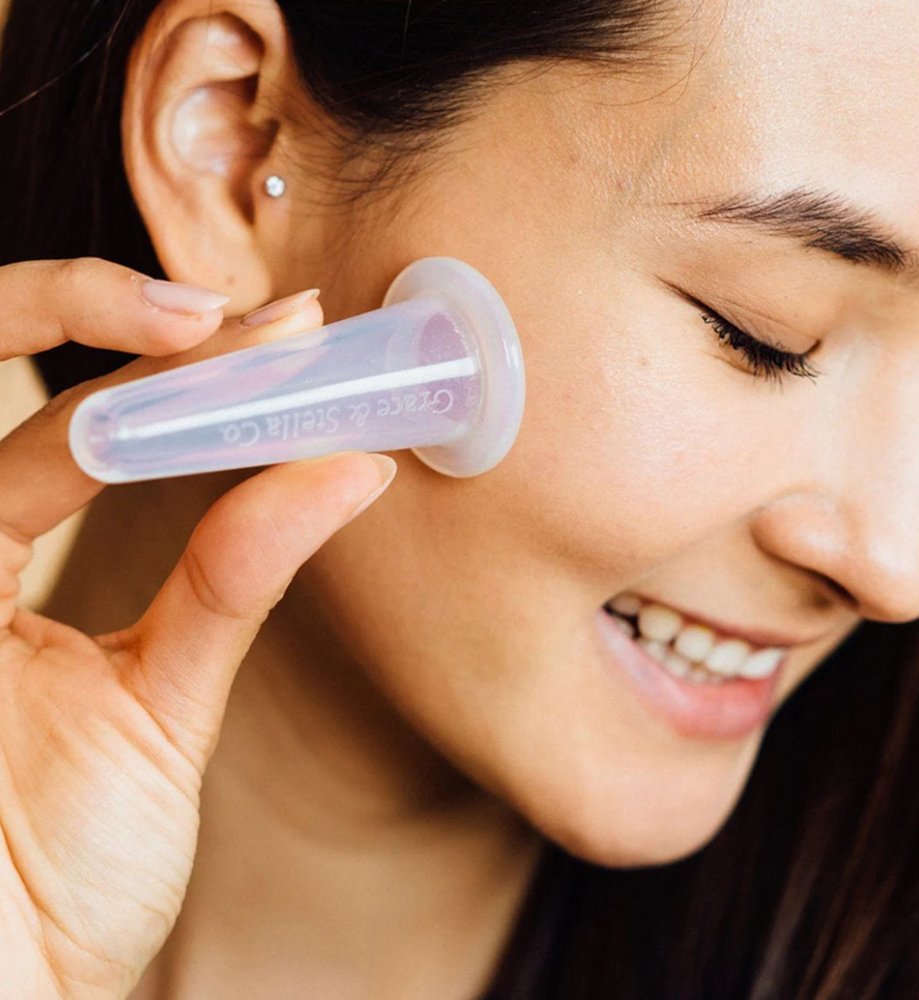 don't just take our word for it
"Just tried this for the first time! I loved it! It's so easy to use and feels great. Love the facial applicator included to apply the jojoba oil. Left my skin feeling vibrant . Not much redness. You are able to determine the level of suction you feel most comfortable with. Excited to continue using this :)" - Brittany
Impressive packaging and user-friendly
I'm really impressed with the attention to detail in the seller's packaging! The product itself is of top-notch quality and very easy to use. I'm looking forward to seeing excellent results!
Face cupping
The product is exactly as I expected, and the cups are of good quality, durable, and simple to use.
Impressive quality
The cups have truly impressed me with their high quality. They are user-friendly and the jojoba oil included is completely natural and devoid of any scent. Additionally, the bottle size is surprisingly large, ensuring it will last me a considerable amount of time. Considering the price of this set, it is definitely a worthwhile purchase!
Great compact set
Considering the price, this set includes a generous variety of items, neatly packed in a reusable drawstring bag. The jojoba oil serves as a versatile base oil. Mastering the technique may require some effort, but I anticipate positive outcomes. It would be ideal to have an intermediate size option available. All in all, a satisfactory buy. The package arrived in perfect condition and within the expected timeframe.
Adorable small kit
I made this purchase after being singled out by an advertisement for a comparable item on social media. Nevertheless, that kit was priced at $34 for just 2 tiny cups. I decided to search for an alternative and stumbled upon this one. It appears to be of good quality and the suction is pleasant. I suggest looking up some instructional videos since the included instructions are not useful. Once you get the hang of it, it's fantastic!
Effective!
I've been interested in trying facial cupping for some time now, and when I stumbled upon this set, I immediately added it to my cart. What I love about it is that it comes with an oil included. So far, I've only used it twice, but I've already noticed a significant improvement in my under eye hollows. Additionally, it does a great job of plumping up my lips. I'll make sure to post some photos for an update once I've used it for a longer period of time. On a side note, I noticed some negative reviews mentioning bruising. It's important to note that facial cupping is different from body cupping, so it's crucial not to leave the cups in one place for too long. I recommend watching some YouTube tutorials on facial cupping to get a better understanding of how to use it properly!