lavender essential oil
$26.00
$16.00
Sale

• Save
Promoting relaxation and used to treat anxiety, headaches, depression, insomnia, and more, lavender essential oil is the upgrade your self-care routine has been craving. You've never known a more peaceful sleep - lavender oil is infamous in the aromatherapy world for boosting sleepiness and reduces the effects of insomnia, and relieves stress and muscle tension for a relaxed body. Boost mood, soothe stress, and combat feelings of anxiety - sign us up.
Soothes painful irritation with it's powerful pain-relieving and anti-inflammatory properties

Promotes relaxation and relieves feelings of anxiety and depression

Treats fungal infections, allergies, eczema, nausea, and menstrual cramps

Helps you fall asleep effortlessly and without muscle tension
Add 4-12 drops to a bowl of steaming water/facial steamer and inhale deeply for 5-10 minutes.

For diffusing, add 10-15 drops to diffuser.

For massage, add 2 drops to 20 ml oil.

For skin care, add 1 drop to 10 ml oil.

You can mix a few drops of Lavender Oil with distilled water in a small spray bottle and spray your pillow at night for a better slumber.
Relieving your stress & worries
Sleepy-heads that can't sleep
Lifting mood
Pain-relief that makes you go "ahh"
100% Lavender Oil is a powerful anti-inflammatory that relieves muscle tension, physical & mental stress, and helps you drift into a peaceful snooze

See All ingredients
×
lavender essential oil ingredients
100% Pure Lavandula Angustifolia (Lavender Oil)
Free shipping, free gifts, free returns
Trusted by over 4 million customers
180,000 5-star brand reviews
why we love it
Soothing your atmosphere is just as important as soothing your skin. Promotion relaxation and used to treat anxiety, headaches, depressio, insomnia, and more.
how to use
add 4-12 drops to a bowl of steaming water/ facial steamer and inhal deeply for 5-10 minutes

for diffusing, add 10-15 drops to diffuser.

for massage, add 2 drops to 20ml oil. for skin care, add 1 drop to 10 ml oil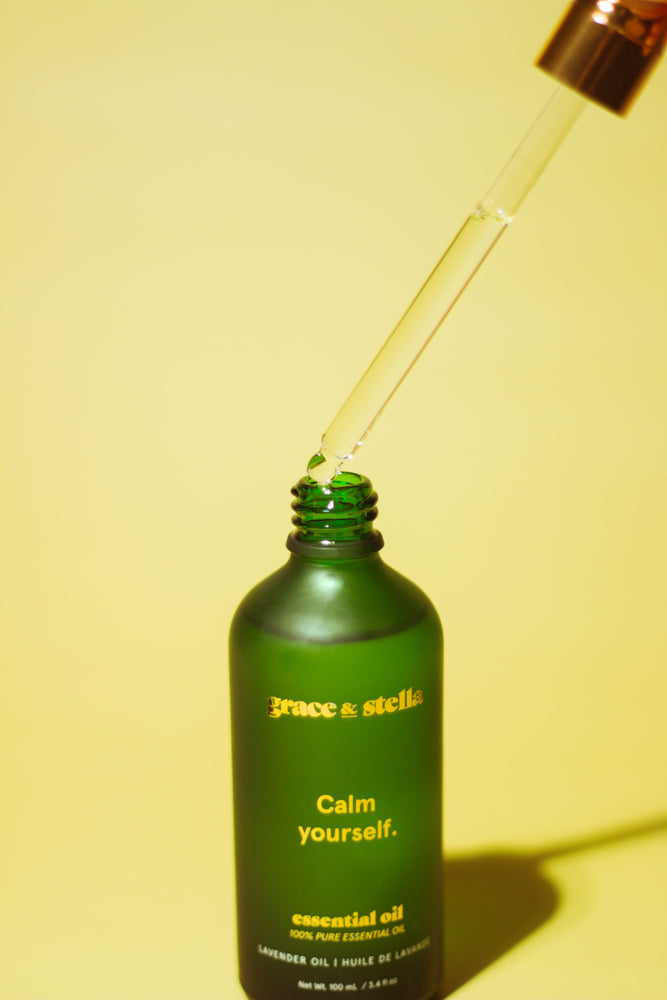 Smells great
It's like it should be and not too think of an oil. Great for adding to homemade lotion
Lovely fragrance, no complaints
I have nothing negative to say about this product - the lavender scent is absolutely beautiful and I will definitely purchase it again! However, after using the oil with my diffuser for a few weeks, I noticed that the plastic lid on the packaging has cracked from regular use, so it's not the most durable. Just be careful when opening and closing it - the oil is definitely worth it.
Beautiful!!
This is a large 4 oz bottle and it smells amazing. Really like having the dropper too. Lasts a long time too!! Very pleased and will order more
A fantastic multipurpose product!
I ordered this product because I suffer with anxiety and not being able to relax when I leave work and hence struggling with poor sleep. So after many years of trying prescribed items I started using lavender oil however paying triple the amount for much smaller bottles. I normally just add a few drops to my bath each night to get relaxed and calm my mind. I also before bed drop a few drops on my pillow you don't need a lot and I honestly feel it has helped. I also used this as a preventative methods for headline at work. I teach primary so use it in my hair ever other day.
Quality product at a good price!
Good quality product at a great price. The product is well packaged with a nice aesthetic. It came with a little sticker inside which was a nice perk!
Profumo buono
Un po chimico ma pttimk rapporto qualita prezzk